Why aroCRM?
aroCRM offers a simple, userfriendly, intuitive platform to witness top notch customer experience. aroCRM's easy-to-use, customizable dashboard provides 360-degree view of the customer, all in one place. aroCRM can serve as a vital nerve center to manage all connections that happen in a your business.

aroCRM offers in built dashboard that features: –
Company/Customer Management – Analyse customer interactions and data throughout the entire eco-system which aims in improving business relationships with customer.
Contact Management – Track your entire database of customers, vendors and get their individual data.
Lead Management – Get auto updates of the entire sales process i.e. calls, meeting, demos and revenue. It is a process that identifies leads, engage with them and convert them into direct sales.
Opportunities Management – Control and manage your sales process through opportunity management CRM
Sales Order Management – Automate your entire order to cash flow by removing errors and optimizing processes to deliver on-time.
Invoice Management – Generate cloud base bill and process the invoice automatically.
Service Management – Track and manage customer service activities of an organisation on daily basis.
Contract Management – In order to manage and keep track of the agreements that have been made with customers.
Campaign Management – Manage multiple campaign in single platform and check the data in real time.
Inventory Management with Purchase Cycle – Incorporate all the inventory features that includes Invoice, purchase order, sales, vendors and price books.
Document Management – Maintain electronic documents in the cloud based CRM ecosystem.
System Administration – The dashboard help your business gain a better understanding of who their customers are, what they are buying and check customer loyalty.
Reporting and Analysis – You can measure your business performance on basis of the auto generated reports in the CRM system.
Integration with Various Tools (Mail Manager, SMS Manager etc.) – Send automatic mail alerts and send personalise message to all individual clients.
This application is developed with top notch technology keeping the industry's trend in mind. aroCRM's workflow engine helps CRM deliver better business process automation, making your organization more effective and efficient.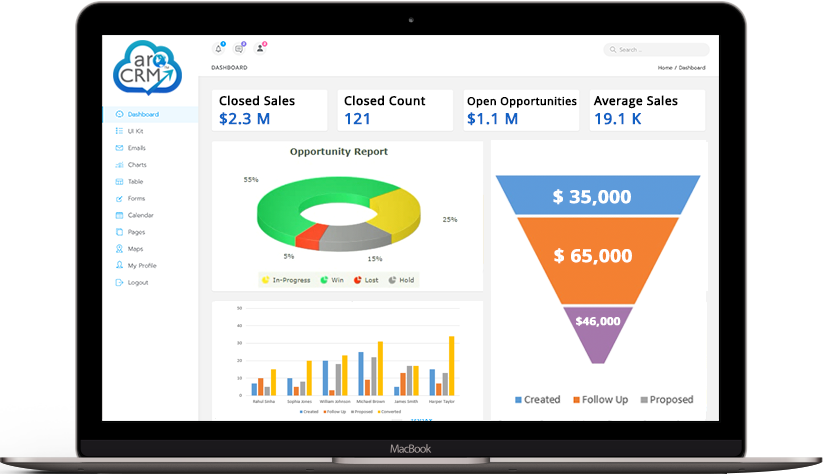 How aroCRM benefits an organisation?
It provides a vast Customer data management
Get daily basis Sales reporting
Predicts accurate sales forecasting
Customer segmentation
Scaling a sales process
Managing multiple Marketing Campaigns through 3rd party applications
Better internal communication
Provide Support Timely
Enhanced Process to mitigate customer satisfaction
Customer data management
Regardless of how, when, or where customers, partners, and prospects choose to interact with your organization, aroCRM offers a comprehensive, easy-to-use solution to successfully manage these relationships.
Get in touch with us for a free demo!